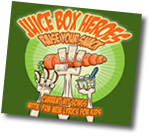 RAISE YOUR SNACK - $15
New Release! Current hit songs with fun new lyrics for kids!

ORDER NOW

TRACKS INCLUDE:
1. Raise Your Snack - Pink's "Raise Your Glass"
2. I'm Big - Nicki Minaj's "Starships"
3. Cell Phone - Maroon 5's "Payphone"
4. Thank You - Cee Lo Green's "Forget You"
5. It's Family Night - Katy Perry's "Last Friday Night"
6. Oreo Hearts - Gym Class Heroes "Stereo Hearts"
7. Kindergarten Class - Katy Perry's "California Girls"
8. Hey, Big Brother - Train's "Hey, Soul Sister"
9. Moves Like Daddy - Maroon 5's "Moves Like Jagger"
10. Waiting On A Diaper Change - John Mayer's "Waiting On The World To Change"
11. Monkey Dance - Lady Gaga's "Bad Romance"
12. Silly And I Know It - LMFAO's "Sexy And I Know It"
13. Foods I Like - Taio Cruz's "Dynamite"
14. Suck My Thumb - Fun's "We Are Young"

NO SUGAR ADDED - $15
The award-winning debut CD that put Juice Box Heroes on the map!


ORDER NOW

TRACKS INCLUDE:
1. Cake - George Michael's "Faith"
2. Mommy (123456789) - Tommy Tutone's "Jenny (8675309)"
3. One Year Old - J. Geils Band's "Centerfold"
4. Puppy's Fur - Rick Springfield's "Jessie's Girl"
5. Cheerio World - Madonna's "Material Girl"
6. When I'm Big I Want Braces - Garth Brooks' "Friends in Low Places"
7. The Zoo - Dion's "Runaround Sue"
8. Sweet Clementines - Neil Diamond's "Sweet Caroline"
9. Sweet Dreamin' Pajamas - Lynard Skynard's "Sweet Home Alabama"
10. We Are Going To Bake It - Twisted Sister's "We're Not Gonna Take It"
11. Kids Just Wanna Have Fun - Cyndi Lauper's "Girls Just Wanna Have Fun"
12. Don't Worry, Take A Nappy - Bobby McFerrin's "Don't Worry Be Happy"